In an effort to create a safe environment for the customer as well as the operator; we are highlighting an option that we have offered for years. Traditionally called a sneeze guard, these clear barriers have been in use on salad bars and other areas of food service to provide a protective shield for exposed food in public spaces. Now we are offering these clear barriers as a protection for mobile food cart operators, where social distancing is not always an option during the transaction.
We offer all sorts of options, from a simple cut piece when possible,where an unframed section can be mounted to a pre-existing edge of a unit in the field to more elaborate options with brass framed multiple sided units. Give us a call with your custom needs and sizes for pricing.
When ordering a new unit from us we do have standard pricing.
Pricing Guide
Stainless Steel tube framed sneeze guard per side for Ice Cube & Half Pint – $195.00
Stainless Steel tube framed sneeze guard per side for V-I series – $250.00
Stainless Steel tube framed sneeze guard per side for V-M series – $250.00
Stainless Steel tube framed sneeze guard per side for V-DDI series – $295.00
Stainless Steel trimmed sneeze guard per side for traditional Hot Dog Carts – $125.00
Two sided Stainless Steel tube framed sneeze guard for Ultralites – $775.00
Larger units and those not listed – CALL TO DISCUSS DETAILS (718-322-2003)
StainlessSteel Trim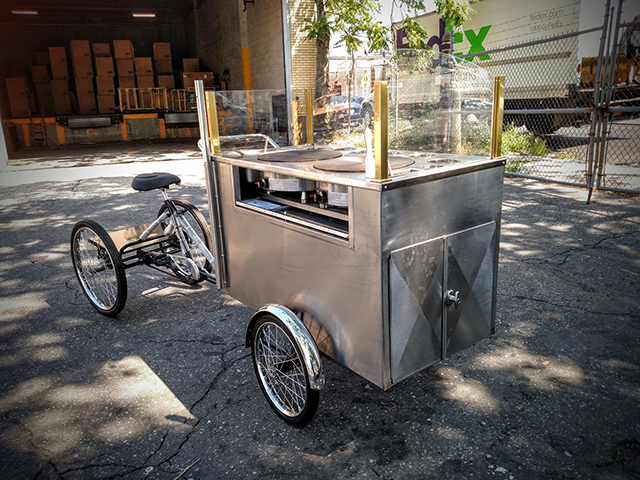 Custom Shape Brass Posts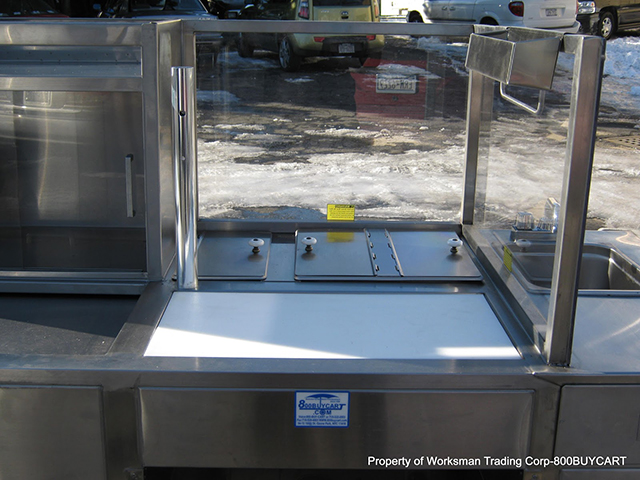 Two Sided Tube Framed